What is Paint 3D?
Paint 3D is a refresh of Microsoft Paint. Paint 3D is on of the several application introduced with the Windows 10 Creators Update and it is also one of Several 3D modeling and Printing applications improved with the Windows 10 Creators Update along with View 3D, Windows Mixed Reality and Holograms. It is Developed by Microsoft's Lift London studio. To combine a light-weight hybrid 2D-3D editing experience Paint 3D incorporates features of the Microsoft Paint and 3D Builder application that allows users to pull in a variety of shapes from the app, their personal computer. Paint 3D is a built-in creative application.

How to use Microsoft Paint 3D
Get started with Paint 3D in Windows 10. If you are the first user of the Microsoft Paint 3D you have to accept the Terms and Conditions.
Then you have to join the Remix 3D community.
Then after grab a model and start editing.
After editing turn 2D drawings into 3D models.
After that paint models and add backgrounds.
Then use a photo as a texture on a model.
Draw 3D shapes freehand.
After that save your creation.
Paint 3D's basic navigation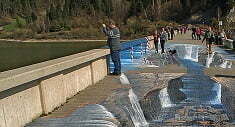 Brushes: With unique brushes you can expand your artistic abilities that mimic real materials without the mess. Try to use the transparent watercolor as possible that beautifully washes the oil painting so much real that you can see the paint smudging. These artistic brushes work on the 3D models just like professional effects like polished metal to help personalize your designs.
2D Shapes: With Paint 3d collection of 2D shapes, lines, and curve tools in your picture It is easy to draw perfect shapes. To your desired angle use the control circles to manipulate the curvature. To turn the shape into a layer with additional rotation options You can also click Make 3D.
3D Shapes: In 3D there are many ways to get started in creating. Use pre-made shapes to jump-start building a new model or to instantly turn your 2D sketches in 3D models use the 3D doodle tool. Simply trace a design from a draw one free hand and watch as it instantly pops into a 3D model. For drawing a star the sharp edge 3D doodle creates sharp lines, perfect. The soft edge 3D doodle creates a soft curve for drawing a cloud.
Stickers: To add texture to your creations this is a unique and easy way in Paint 3D. Use this tool to experiment with materials like wood or upload your own photo to create a custom texture sticker. You can adjust the opacity of the sticker.
Text: With the text options in Paint 3D add words using 2D & 3D. In 3D paint 2D will anchor the text to the canvas while 3D text will allow you to move it around the canvas and rotate to different-different directions.
Effects: By changing the environment and lighting in your 3D scenes create unique moods such as calming Mist or mysterious Night. You can also move the sun around a light wheel to change the lighting direction.
Canvas: This type of digital canvas mimics a painter's canvas. This canvas tab allows you to resize and control the dimensions, including turning off the 2D canvas and you can freely design your 3D model in Paint 3D.
Magic Select: It is easy to use tool that allows you to select the part of the image that you want to cut and remove it from the background. The tool magically pops out your selection onto another layer and intelligently auto-fills the background to hide any gaps.
History Slider: It records every change in the scene and allows you to scroll back through time. You can also create a video of your design process to share with close ones by click on the start recording button.
3D View mode: 3D View mode allows you to move around and see your content from any angle. With the ability to enter a precise zoom amount there are also controls to help you zoom in and out of the canvas.
Mixed Reality: Mixed reality takes your 3D model from Paint 3D and launches it into the Mixed Reality Viewer application so you can visualize the 3D model in a real-world context. You can also snap a photo or record a short video of the 3D object interacting with your world to share with Close ones.
Paint 3D makes it easy to unlock your creativity what you were created and bring your ideas to life. You can get started by opening the Paint 3D app to check out these features for yourself.
Basic About Paint 3D