Happy Republic Day Banner Mobile se Kaise Banaye ? – गणतंत्र दिवस की शुभकामनाये वाली पोस्टर मोबाइल से कैसे बनाते है ! अगर आप भी रिपब्लिक डे के लिए प्रोफेशनल बधाई वाला पोस्टर अपने मोबाइल से बनाना चाहते है! तो आप निचे दिए गए वीडियो को देखें और खुद से प्रोफेसनल गणतंत्र दिवस पोस्टर सुभकामनाये वाली पोस्टर मोबाइल से बनाये ! अगर आपको गणतंत्र दिवस पोस्टर बनाने नही आता है तो कोई बात नही क्यू कि मे बहुत हि असान तरीका बताया हूँ नीचे दिये गये विडिओ मे तो आप विडिओ को सुरू से अंत तक देखे और खुद से ही रिपब्लिक डे के कि हार्दिक बधाई शुभकामनाये वाली पोस्टर अपने मोबाइल से ही बनाये !
Read More:-
Happy Republic Day Banner Design Editing Kaise Karen ? गणतंत्र दिवस का पोस्टर कैसे बनाएं 2023
रिपब्लिक डे कि बधाई देने के लिए शुभकामनाये वाली मोबाइल से हैप्पी गणतंत्र दिवस का पोस्टर कैसे बनाएं इसके बारे में बिस्तार से इस वीडियो में बताया गया है तो दोस्त आप इस वीडियो को सुरु से अंत तक देखे !
Happy Republic Day Banner Background Editing Material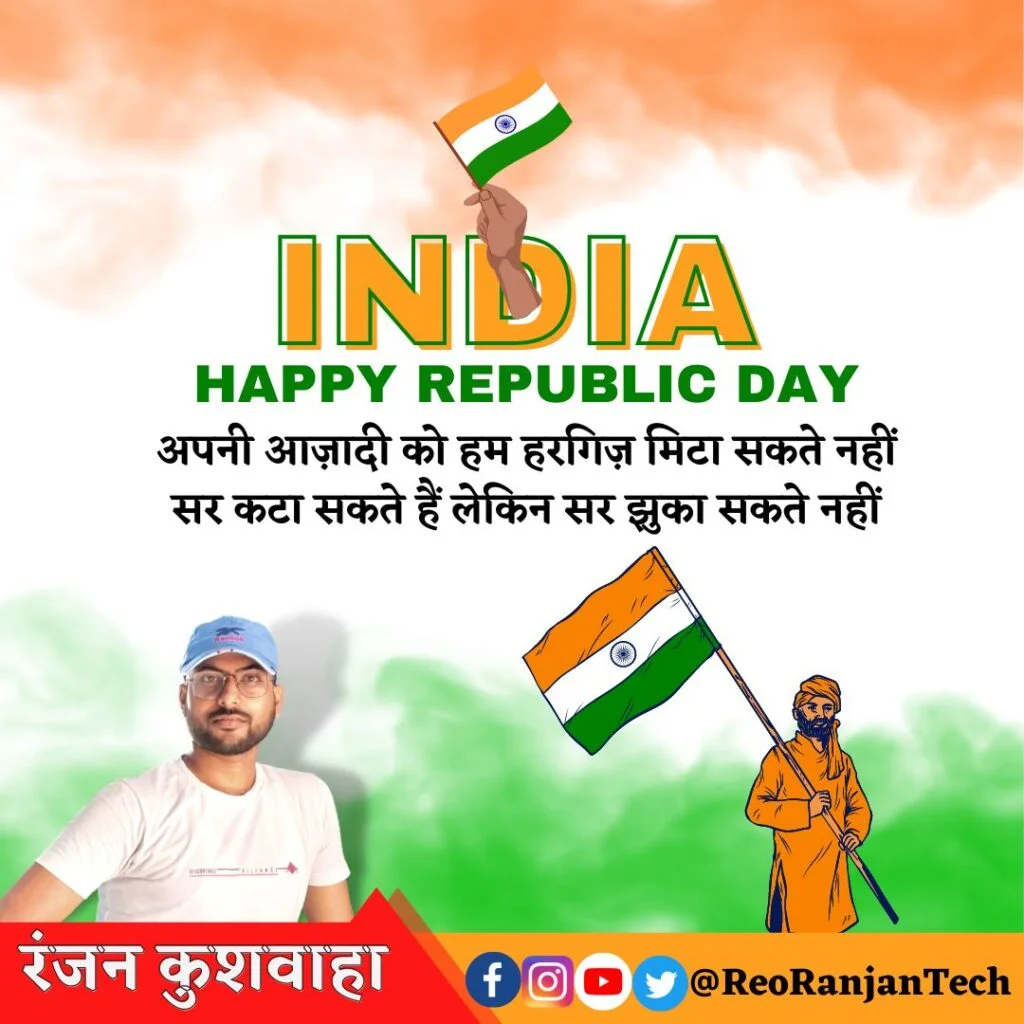 हैप्पी गणतंत्र दिवस के लिए शुभकामनाये वाली पोस्टर टेमपलेट मटेरियल डाउनलोड करने के लिए सबसे पहले आपको नीचे दिए गए एक डाउनलोड का ऑप्शन दिखेगा उस डाउनलोड वाले बटन पे क्लिक करके आप इस रिपब्लिक डे कि बधाई शुभकामनाये वाली बैनर टेमपलेट को आसानी से अपने मोबाइल में डाउनलोड कर सकते है!
गणतंत्र दिवस का बैनर कैसे बनाएं?
गणतंत्र दिवस का बैनर बनाने के लिए, आपको कुछ साधारण स्टेप्स करने की जरूरत होगी:
किसी क्रेश सॉफ्टवेयर को चुनें जैसे कि प्रोफेसियनल फोटोशॉप, इमेजरी, इंडिजन के साथ.
बैनर की आवश्यक आकार को निर्धारित करें, जैसे कि पैमाने के लिए बैनर.
बैनर के लिए स्विच, स्वरूप, और स्थान को निर्धारित करें. स्विच के लिए गणतंत्र दिवस के सम्बन्धित फोटो, स्वरूप के लिए स्वयं के निर्मित शुल्क और स्थान के लिए बैनर के सम्बन्धित पैमाने के साथ.
बैनर को सहेजें और अपने प्रक्रिया को समाप्त करें.
How To Edit Happy Republic Day Event Banner/ Poster Template
Open your graphic design software, such as Adobe Photoshop or Illustrator.
Load the Republic Day event banner template.
Locate the text layers and edit the text with your desired message.
If you want to change the font, size, or color of the text, you can do that by selecting the text layer and using the appropriate tools in the software.
If you want to add or change images, you can do that by opening the image file in your software and placing it on the banner template. You can use the move tool to position the image where you want it.
If you want to add or change colors, you can do that by selecting the appropriate layer or element in your design and using the color picker tool to choose a new color.
Save your changes and export the banner as a JPEG or PNG file.
Now you can use this banner for your event or share it on social media.
Please note that the steps may vary depending on the graphic design software you are using.
Happy Republic Day Banner Mobile se Kaise Banaye ?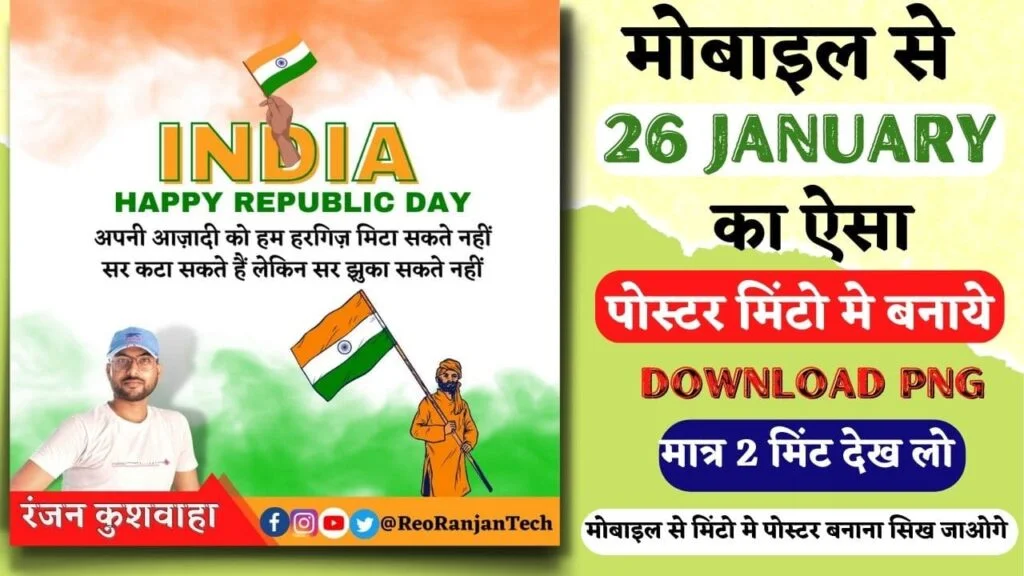 Republic Day Banner Background
A Republic Day banner background typically features patriotic symbols and colors, such as the national flag of the country, images of national monuments or leaders, and colors like saffron, white, and green. The design may also include messages or slogans related to the celebration of Republic Day. The background could be a simple illustration of the flag and other elements or a more complex design with different textures and patterns.
Poster Making on Republic Day
To make a poster for Republic Day, you can follow these steps:
Choose a theme for your poster. This could be related to the history or significance of Republic Day, or it could be something more abstract that represents the spirit of the holiday.
Gather materials for your poster. This might include colored pencils, markers, paint, or other art supplies. You may also want to include images or photographs to enhance your poster.
Sketch out a rough design for your poster. This should include the main elements you want to include, such as text, images, and illustrations.
Begin filling in your poster with color and details. Use your chosen materials to create a visually striking poster that captures the theme you have chosen.
Once you have completed your poster, you may want to add a title or a message to the top of the poster. This could be something simple, like "Happy Republic Day!" or something more reflective, like "Honoring Our Heritage."
Display your poster, share it with friends, family and post it on social media to spread the message of Republic Day.
Happy Republic Day Poster Design 2023
Here is an example of a simple and colorful poster design for Republic Day:
In the center of the poster, there is an illustration of the national flag of India, with the colors saffron, white and green. Above the flag, there is a bold text that says "Happy Republic Day" in English, and below it, there is a similar text in Hindi.
On the left and right sides of the poster, there are illustrations of national symbols such as the Ashok Chakra, the national emblem, and a Peacock. And at the bottom, the text "26th January" is written in large font, indicating the date of the Republic Day.
Please note that this is just an example, you can be as creative as you want with your poster design.
Creative Republic Day Posters
Here are a few ideas for creating creative Republic Day posters:
Use a mix of traditional and modern elements to create a unique design. For example, you could use an image of the national flag along with a modern graphic element.
Use creative typography to create a visually interesting poster. Play around with different font sizes and styles to create a dynamic design.
Use a monochromatic color scheme to create a minimalist design. This can be a powerful way to convey a message with a single image.
Use an image of a well-known landmark or monument in India to create a patriotic feeling. The Taj Mahal or the Gateway of India would be great choices.
Use a mix of illustrations and photographs to create a unique and eye-catching poster. This can be an effective way to convey a message in an interesting and engaging way.
Happy Republic Day Banner Mobile se Kaise Banaye ? Republic Day Poster Making 2023